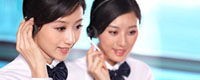 E-mail: sales1@fortunehardware86.com
E-mail: sales2@fortunehardware86.com
Add: A2501,Oriental Times Plaza, North Huaqiang Rd, Futian District,Shenzhen,China



Product name : Round Head Open End Blind Rivets

Item : MTRVTPHRAL

material : Aluminum (5050,5154) or other
Details:
Standard:
DIN7337,
GB/T 12618-90
Material:
Aluminum (5050,5154) or other
Finish:
Baking vanish, Zinc plating, nickel plating, Dacromet
Refer to document as below:

Round Head Open End Blind Rivets.pdf
Round Head Open End Blind Rivets
is a blind rivet consists of a tubular stainless steel body with a mandrel, or retention piece, through its center. The mandrel keeps the rivet in place as the worker uses a rivet gun to pull the body through, allowing the remaining piece to snap off. This leaves the mandrel head in place, securing the two objects being joined together.
And below is the common drawing for this kind: