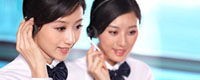 E-mail: sales1@fortunehardware86.com
E-mail: sales2@fortunehardware86.com
Add: A2501,Oriental Times Plaza, North Huaqiang Rd, Futian District,Shenzhen,China



Product name : Pull Thru Rivet

Item : MTRVTNHRAL

material : Aluminum (5050,5154) or other
Details:
Material:
Aluminum (5050,5154) or other
Finish:
Baking vanish, Zinc plating, nickel plating, Dacromet
Refer to document as below:

Pull Thru Rivet.pdf
Pull Thru Rivet
is a steel countersunk blind fastener designed to set surface flush on both sides of an application (blind side rivet protrusion #0.4mm/.015").
During setting, the mandrel head never breaks away from the mandrel. It remains integral with the mandrel, while extruding completely through the rivet body and exiting into the setting tool. This unique process provides a consistent tight radial set within the working grip range of the rivet, improves rivet tool access and eliminates the possibility of loose mandrel heads in the application.
This innovative fastener is widely used in the electronics industry. It also lends itself to assembly of any product where clearance is limited and protrusion of the rivet body from application surfaces must be either minimized or eliminated.
And below is the common drawing for this kind: