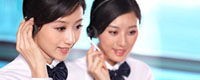 E-mail: sales1@fortunehardware86.com
E-mail: sales2@fortunehardware86.com
Add: A2501,Oriental Times Plaza, North Huaqiang Rd, Futian District,Shenzhen,China



Product name : Carbon Steel Hexagon Socket Head Bolt

Item : MTBLTHCSCB

material : Carbon Steel
Details:
Standard:
DIN912,
ISO4762,
GB/T70-2000,
DIN7984
Material:
C1018,
Q235

, C1008, St37, C1016, Q255, Q275,
if you need to use other carbon steel, please let us know.
Heat Treatment:
Quenching and tempering, If you have special hardness requirement, please let us know.
Surface Hardness:
110HV~ 1000HV, as your requirement
Tensile strength:700N/mm2
Thread Direction:Normal is right hand/dextrorotation, if you want left hand, please let us know.
Refer to document as below:

Carbon Steel Hexagon Socket Head Bolt.pdf
Carbon Steel Hexagon Socket Head Bolt
is
a hex socket bolt, also known as the socket head cap bolt, is a headed and externally threaded part designed for insertion through a close tolerance internally tapped hole and mated with a nut. Tension on the hex socket bolt is induced by rotation of the bolt head. There is a hex socket in the head that accepts a hex wrench to tighten the socket head cap bolt. The point at the threaded end of the socket head cap bolt is machined flat so it will fit into a drilled hole
.
More than 90% of the fasteners manufactured by carbon steel. The reason is very simple, carbon steel has excellent work performance; Strength properties can be gained through various; And compared with other common fastener materials, its price is also very cheap. In general, the carbon steel in use can be three kinds: low carbon steel, medium carbon steel, and alloy steel.
Low carbon steel used in the manufacture of low carbon steel fasteners, defined as those with low carbon content to facilitate the strength of carbon steel heat treatment process can have a predictable response. The most commonly used is AISI 1006, 1008, 1016, 1008, 1021 and 1022.The carbon steel has good work performance, they can be hardening or be welding, they can also continue to improve its strength characteristics by cold working processing.
You can refer to below chart/list of Screw head/Thread ending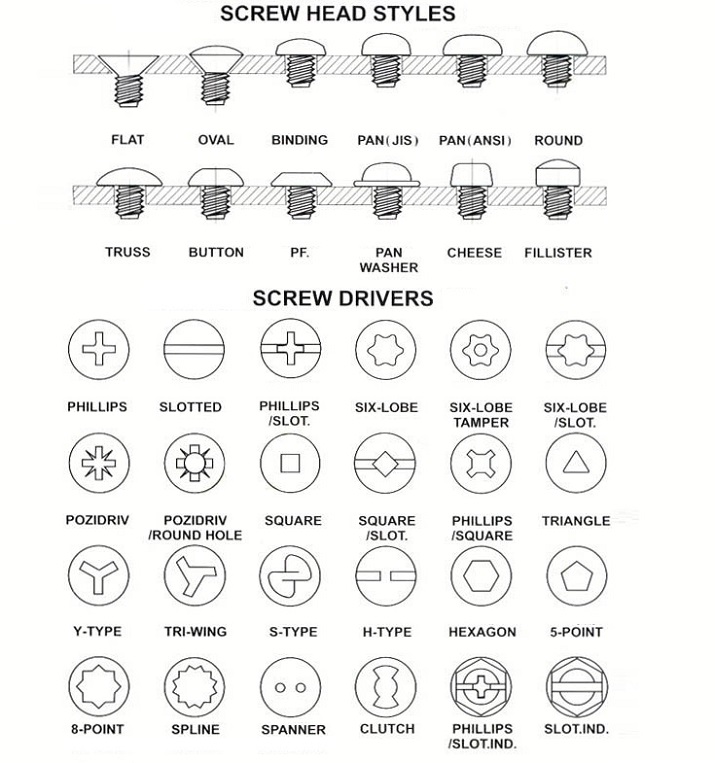 Thread ending: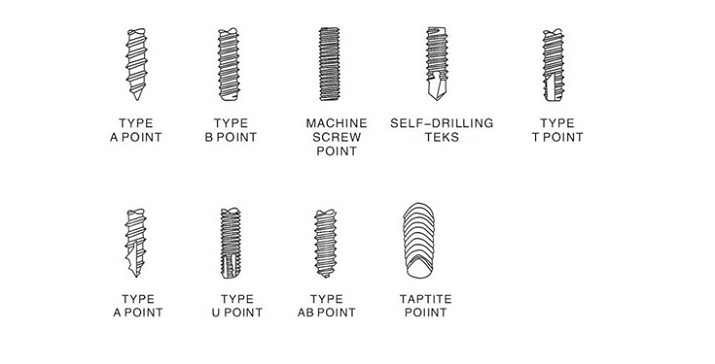 And below is the common drawing for this kind: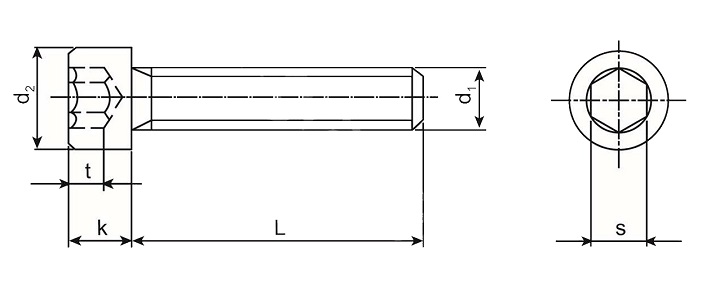 Below chart show some typical dimensions of them, you can refer it, or can you change it for your own design, if you want know more standard dimensions of screw , you can contact us.
| | | | | | | | |
| --- | --- | --- | --- | --- | --- | --- | --- |
| Item | Standard | d1(mm) | L(mm) | d2(mm) | K(mm) | S(mm) | t min(mm) |
| M3X6 | ISO4762 | M3 | 6 | 5.5 | 3 | 2.5 | 1.3 |
| M3X8 | ISO4762 | M3 | 8 | 5.5 | 3 | 2.5 | 1.3 |
| M3X10 | ISO4762 | M3 | 10 | 5.5 | 3 | 2.5 | 1.3 |
| M3X12 | ISO4762 | M3 | 12 | 5.5 | 3 | 2.5 | 1.3 |
| M3X16 | ISO4762 | M3 | 16 | 5.5 | 3 | 2.5 | 1.3 |
| M3X20 | ISO4762 | M3 | 20 | 5.5 | 3 | 2.5 | 1.3 |
| M3X25 | ISO4762 | M3 | 25 | 5.5 | 3 | 2.5 | 1.3 |
| M3X30 | ISO4762 | M3 | 30 | 5.5 | 3 | 2.5 | 1.3 |
| M4X6 | ISO4762 | M4 | 6 | 7 | 4 | 3 | 2 |
| M4X8 | ISO4762 | M4 | 8 | 7 | 4 | 3 | 2 |
| M4X10 | ISO4762 | M4 | 10 | 7 | 4 | 3 | 2 |
| M4X12 | ISO4762 | M4 | 12 | 7 | 4 | 3 | 2 |
| M4X14 | ISO4762 | M4 | 14 | 7 | 4 | 3 | 2 |
| M4X16 | ISO4762 | M4 | 16 | 7 | 4 | 3 | 2 |
| M4X18 | ISO4762 | M4 | 18 | 7 | 4 | 3 | 2 |