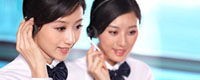 E-mail: sales1@fortunehardware86.com
E-mail: sales2@fortunehardware86.com
Add: A2501,Oriental Times Plaza, North Huaqiang Rd, Futian District,Shenzhen,China



A square nut is a four-sided nut. Compared to standard hex nuts, square nuts have a greater surface in contact with the part being fastened, and therefore provide greater resistance to loosening (though also greater resistance to tightening). They are also much less likely to become rounded-off after repeated loosening/tightening cycles. Square nuts are typically mated with square-headed bolts. Square nuts are used along with flat washers in order to avoid damage from its sharp edges and helps to increase the strength of the fastener.