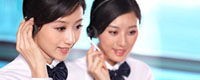 E-mail: sales1@fortunehardware86.com
E-mail: sales2@fortunehardware86.com
Add: A2501,Oriental Times Plaza, North Huaqiang Rd, Futian District,Shenzhen,China



Product name : Alloy Tool Steel Ball End Allen Key

Item : MTAKYBEKAS

material : Alloy Tool Steel
Details:
Material:
S2,45#,40#,
if you need to use other steel, please let us know.
Heat Treatment:
Quench for normal, If you have special hardness requirement, please let us know.
Surface Hardness:
Above 35HRC
Head:
Hexagon Socket
Refer to document as below:

Alloy Tool Steel Ball End Allen Key.pdf
Alloy Tool Steel Ball End Allen Key---
A hex key or Allen key (also known by various other synonyms) is a tool of hexagonal cross-section used to drive bolts and screws that have a hexagonal socket in the head (internal-wrenching hexagon drive).
The Allen name is a registered trademark, originated by the Allen Manufacturing Company of Hartford, Connecticut circa 1910, and currently owned by Apex Tool Group, LLC. Its genericized use is discouraged by this company. The standard generic name used in catalogs and published books and journals is "hex key".
Shock-resisting tool steels are designated as group S steels according to the AISI classification system. These steels include S1, S2, S5, S6, and S7 types. The hardenability of group S steels can be controlled by varying thier composition rather than adjusting the melting methods and grain size. They can obtain optimum hardness at higher austenitizing temperatures. The tempering resistance of group S steels can be enhanced by the addition of silicon, which also forms a microstructure to resist distortion in tempered conditions.
And below is the common drawing for this kind: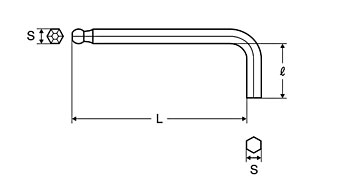 Below chart show some typical dimensions of them, you can refer it, or can you change it for your own design, if you want know more standard dimensions of screw , you can contact us.
| | | |
| --- | --- | --- |
| d(mm) | L1(mm) | L2(mm) |
| 1.5 | 45 | 14 |
| 2 | 50 | 16 |
| 2.5 | 56 | 18 |
| 3 | 63 | 20 |
| 4 | 70 | 25 |
| 5 | 80 | 28 |
| 6 | 90 | 32 |
| 7 | 95 | 34 |
| 8 | 100 | 36 |
| 10 | 112 | 40 |